Our Guest Chef of the week is Sangeeta Srivastava who is a food lover and a fabulous writer. We loved the chocolaty twist she has given to Sooji ka Halwa which is a popular comfort dessert. This one cannot go wrong. We are sure you will relish this dish to the fullest.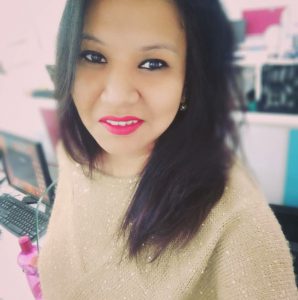 Ingredients
Rava (Sooji) – 1/2 cup
Warm water – 2 cups
Ghee – 2 tablespoons
Drinking chocolate powder/coco powder – 2 tablespoons
Sugar – 2 tablespoons
Almonds (peeled and slivered) – 3/4 pieces
Honey – 1 tablespoon
---
Servings: 2 – 3 persons
Preparation & Cooking Time: 15 mins
---
Method
Heat ghee in a heavy bottomed pan and add Sooji.
Roast the Sooji until it turns golden brown.
Add one cup of warm water along with sugar and mix.
Bring it to a boil until the Sooji absorbs the water.
Keep stirring the Halwa.
Mix the drinking chocolate powder in 1 cup of warm water and pour it into the Halwa and stir well. 
Once the Halwa absorbs the water, give it a quick stir and switch off the stove.
Serve it hot sprinkled with slivered almonds and drizzle honey on top. Enjoy the delicious twist to the Desi Sooji ka Halwa.