Our Guest Chef of the week is Alifiyah Shabbir who is a passionate food lover and an advocate. Her recipe has been selected because of the way she has played around with the ingredients to come up with a flavourful dish which is tempting and well presented.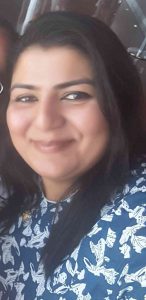 Ingredients
For The Marinade
Chicken (any cut is okay; legs are preferred) 4 -6 legs or 550 grams
Mustard Oil – 25 ml (1 and ½ tablespoons)
Curd – ¼ cup (65 grams)
Ginger-garlic paste – 15 grams (one tablespoon)
Kashmiri Lal chilli powder – 7-8 grams (1-1 ½ teaspoons)
Kasuri Methi (dried fenugreek leaves) – 10-15 grams (3/4 – 1 tablespoon heaped)
For The Garnishing
---
Servings: 2 persons
Marination Time: 60-90 mins.
Cooking Time: 12-15 mins. or till chicken is done ( in case it takes longer)
Best cooked on: Stove Top
Accompaniments: Indian breads like chapatti, phulka, paratha, naan and kutcha go well; heck, tastes heavenly by itself too!
---
Method
Method For Marination:
Wash the chicken well under running water and arrange it in a flat marinating bowl. 
Make tiny incisions on the chicken so that the marinade can permeate till inside
Wash your hands. Add the ginger-garlic paste, mustard oil, curd, chilli powder, salt and sprinkle the kasuri methi on top.
Mix well with your hands ensuring that you rub the marinade thoroughly over every part.
Stow in the refrigerator.
Tip: To get the full flavour of Kasuri Methi, dry roast it for about 1-2 minutes on a tava. Cool and crush it in your palms before adding it. You could even microwave but only for 30 seconds or you could end up burning it (or catching fire inside). 
Cooking Murg Kasuri:
Remove the marinated meat about 15 minutes before you intend to begin cooking to allow it to come to room temperature.
Transfer the meat into a thick bottomed pan. Cover and cook on low flame. 
If you find the meat sticking to the bottom of the pan, add just enough water to prevent it from sticking.
Cook for 12 -15 minutes or till the chicken is completely done.
Plate the chicken, garnish with onion rings and Tadaa! Murg Kasuri is ready to be relished.

Murg Kasuri
Wait! Now that you have read this far, I think I must give you a bonus. So, here is the recipe of the perfect condiment for this dish – the signature mint chutney! Here you go.
What You Will Need:
– One teaspoon oil (5 ml)
– One bunch of mint leaves
– Half bunch of coriander leaves
– 1-2 chillies (according to your taste)
– Tamarind (say the size of a small 5 Rs coin)
– Ginger garlic paste – 5 grams (one teaspoon)
– Dates 1 or 2 (deseeded)
– Salt to taste
– Curd (optional for grinding)
How To Make:
Take a thick bottomed pan and stir fry all the ingredients in oil till all the water is reduced. Remove from stove and let it cool. Once cool, grind it. You may add curd if it is difficult for you to grind. 
How To Store:
Transfer the chutney into an air tight container and store in the fridge. It stays good for up to 1 week. 
There you go! Friend coming over impromptu or children (and adults) craving restaurant style food, lap up all the compliments with this easy-peasy recipe of Murg Kasuri.