It is ironical that even though Baigan (brinjal/eggplant) is known as the king of vegetables, yet it is not a particularly popular one due to its somewhat bitter taste. I remember when I was a child, my mom had a tough time to get me to eat it. However, if you are a brinjal lover, this lipsmacking Bharwan Baigan recipe is perfect for you, and if you are not, then I bet this will change your attitude towards the vegetable, like it did in my case.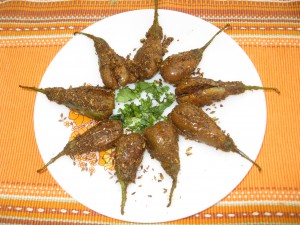 Ingredients :
Baigan small and tender-(9-10 pieces)
Coriander(Dhania) powder- 1 tablespoon
Turmeric powder- 1/2 teaspoon
Red chilly powder – 1/2 teaspoon
Mango(amchoor) powder- 1/2 teaspoon
Cumin seeds – 1/4 teaspoon
Sesame(white til)roasted and powdered- 1 tablespoon
Asafoetida(hing)- 1 pinch
Oil- 1 tablespoon
Sambhar masala – 1 teaspoon
Salt to taste
Preparation Time: 10-15 minutes
Cooking Time: 10-15 minutes
Method
Slice the Baigan(Brinjal) lengthwise taking care that it does not split completely apart. For stuffing masala, put coriander powder, turmeric powder, red chilly powder, mango powder, sesame powder and sambhar powder  in a bowl. Pour 2-3 drops of oil and salt.(As salt is to be sprinkled while cooking, less salt should be used in stuffing) and mix well.
Fill the baigan with stuffing masala gently(Left over stuffing can be used when baigan is half cooked).
Pour rest of the oil in a pan and heat it after adding cumin seeds and hing. When cumin seeds become brown, add stuffed baigan one by one in the pan gently. Sprinkle little salt on baigan all over and cover with lid and let it cook on medium heat. Keep turning baigan from time to time so that it is cooked uniformly.
When baigan is brown and soft, turn off the heat and your Bharwan Baigan is ready.
Serve Bharwan Baigan hot with rice or rotis.