Yengai or "stuffed eggplant/brinjal" is  a popular recipe from North Karnataka which is usually served with Jolada (Millet) rotis but goes well with chapatis and rice too. This recipe has been sent to us by our first "Guest Chef" Shilpa Kulkarni. Shilpa is a journalist by profession who also likes to dabble with the ladles and kadais once in a while. We thank Shilpa for sending us this delectable and unique recipe of Yengai, which we are sure will be loved by one and all.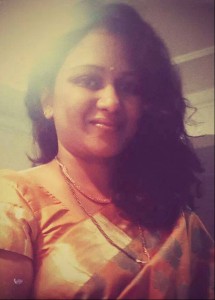 Ingredients:
4 – 6 small, round eggplants
Oil – 1 tablespoon
Mustard seeds – 1 teaspoon
A generous pinch of hing (Asafoetida)
1/2 to 3/4 cup fresh coconut (grated)
Coriander seeds – 2-2.5 teaspoons
Cumin Seeds (Jeera) – 1 teaspoon
1/4 teaspoon turmeric powder
3-4 pods of garlic
Sesame seeds/Til (both black or white can be used depending on choice or availability) – 2 teaspoons
3 to 4 green chillies
Roasted peanuts – 1 tablespoon
Fresh coriander leaves
Tamarind paste – 1/4 teaspoon
Powdered Jaggery – 1/2 teaspoon
1/2 of a medium sized Onion cubed
Salt to taste
Preparation & Cooking Time: 45 mins.
Method
Grind together coconut, coriander seeds, cumin seeds, green chillies, garlic, sesame seeds, onion, jaggery, tamarind, peanuts and salt. Add just enough water to make it a coarse paste. Do not make it too watery.
Make two slits on the eggplants lengthwise such that the slits form a "+" sign on each eggplant. Ensure that the eggplants remain in one piece and do not split apart while making the slits. Retain the stalk of the eggplant.
Stuff the eggplants with the ground masala and keep aside. Keep the remaining masala for the gravy.
Heat oil in a pan and temper with mustard seeds, asafoetida, turmeric powder and curry leaves.
Slowly place the stuffed eggplants one by one into the pan. Cover and cook on medium heat for 4-5 minutes. Flip the eggplants once in a while, so that they are cooked on all sides uniformly.
Add some water to the masala paste which was kept aside for gravy and pour into the pan over the eggplants. Adjust ingredients according to taste. You can add some chilli powder to spice it up or bring some lovely red colour into the dish.
Saute regularly and continue to cook covered, until the eggplants are done and the gravy reaches the desired consistency.
Remove from stove, garnish with fresh coriander leaves and serve hot Yengai with rice or rotis.