Our Guest Chef this week is Hyma Chinta from U.S. and she has shared the recipe of a very interesting dessert – Pina Colada Custard. This is a custard recipe with a twist and is an excellent option for serving to guests due to its unique and rich flavours. This is definitely a glorious dish which is bound to leave one asking for more! We thank Hyma for sharing this wonderful recipe with us which we are sure will be relished by one and all.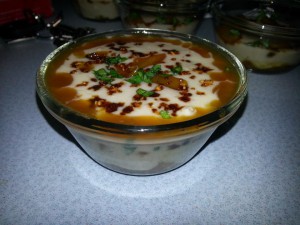 Ingredients:
For Garnish:
1/2 cup Pineapple Chunks
1/4 Cup Sugar
Few chopped mint leaves
For Coconut Custard:
1 1/2 cups Whole Milk or Coconut Milk
1/4 cup Sugar (or as desired)
1 pack Unflavored Gelatin
1 cup half-n-half (or light cream)
1/2 tsp Vanilla Extract
1/8 tsp Salt
1/2 cup Sweetened Shredded Coconut (Toasted)
Preparation & Cooking Time: 4-5 Hrs
Servings: 4-6 persons
Method
To prepare the garnish, add chopped pineapples and sugar in a pan and allow the pineapple to caramelize. Separate the caramelized pineapples chunks from the sauce. Use sauce for garnishing in the end.
Toast 1/2 cup sweetened shredded coconut until light brown. Keep aside 2 tbsp for garnish.
Boil 1.5 cups of Whole Milk or Coconut Milk, and stir in 1/4 cup of sugar (or as desired). Remove from heat when mixture starts to bubble, and add toasted coconut. Cover tightly and set aside for 15 mins.
Sprinkle gelatin in 1/4 cup cold water and soften for 5 mins. Strain warm coconut milk mixture using a fine mesh into gelatin and whisk until gelatin dissolves.
Add vanilla extract, half-n-half and salt, and whisk more.
Take custard cups (or serving glasses) and line the bottom with caramelized pineapples.
Pour the mixture and refrigerate until set (approximately for 3-4 hrs)
Garnish with pineapple sauce, caramelized pineapple, toasted coconut and chopped mint before serving. Enjoy chill Pina Colada Custard.