Our Guest Chef this week is Abhishek Sinha from Goa. He is our first male chef and the first to share a Non-Vegetarian recipe at Tingle Your Taste Buds – Mackerel Rava Fry. Mackerel is a widely available species of fish found in both temperate and tropical seas. While bargaining for it at the local market, the trick is to ask for extra numbers and not bargain for the price. Big mackerel tastes better so the bigger you can get hold of, the better your Mackerel Rava Fry will taste.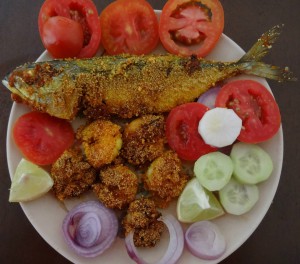 Ingredients:
Mackerel Fish – 1
Turmeric Powder – 1/4 teaspoon
Red Chilli powder – 1/4 to 1/2 teaspoon (Depending on how much spicy you want to make it)
Ginger Garlic paste – 1 teaspoon
Salt to taste
Oil for frying
Some cut onions, tomatoes, cucumbers,coriander leaves and lemon for garnishing (You can choose salad as per your choice)
Rava as per the size of the fish
Servings: 1 person
Cooking Time: 10-15 mins
Method
Clean the fish properly. You need to cut the fish at the right place to take out the unclean part. Make sure you get this done at the market itself if you do not know the proper technique to cut and clean the fish.
Marinate the fish with turmeric powder, red chilli powder, ginger garlic paste and salt for around 15-20 mins atleast.
Heat a pan or tava and add oil. Wait till the oil becomes hot.
Spread Rava on a tray or sheet of paper. Coat the whole fish with the rava well and put it on the tava with the heated oil.
Allow it to cook on low flame till rava turns brown or even a part of it starts to turn black. Turn the fish once one side is cooked.
Once both the sides of the fish are cooked, switch off the gas. If you like, you can remove excess oil by placing the fish on a tissue or newspaper.
Mackerel Rava Fry is ready. Garnish with coriander leaves and serve hot with salad of your choice.